If you have a non-smart tv and want to connect it to wifi, there are a few different methods you can use.
Although non-smart TVs do not have the same amount of features as smart TVs, they can connect to WiFi.
Non-Smart TVs can Connect to Wi-Fi by Using any of the following:
A Streaming Device
An HDMI Cable
A Blu-Ray Player
A Gaming Console
Or Performing Screen Mirroring or Screencasting (Doesn't Require Wifi)
I'll go into more detail below.
A Streaming Device
Streaming devices can connect your TV to your WiFi while accessing YouTube, Twitter, and other applications, depending on the device.
Streaming devices include wifi in them using a wifi adaptor; this little piece of technology allows you to take advantage of wifi without actually having it built into your tv. They also offer a ton of extra features and are becoming like small computers attached to your tv.
Here are some example specs.

Most streaming devices on the market have an HDMI cable that will connect to your TV. Thus, you must ensure that your TV comes with an HDMI port. Even though the general steps are similar for most devices, you should check the user's manual for more specific instructions, depending on the model.
An HDMI Cable Connected to Your PC
Using an HDMI cable to connect your non-smart TV to WiFi is a cheap and easy choice.
If your television is modern enough, it will include an HDMI port. You will use it to connect your non-smart TV to your laptop or PC. This method can work for any operating system (i.e., Windows, Mac, and Linux) and will allow you to view and share videos from your device.
You need to shut down both your TV and laptop before connecting the two devices.
Connect the HDMI cable to the ports of the TV and laptop.
Operate the laptop and the television and choose a movie or series episode to watch.
With the TV remote control, access your TV's "Menu" list and select the "Input" option.
You will choose the option "Source" on the list that will appear and click on the selection that matches the plugin port.
Note: you need to ensure that your laptop or PC has a video out.
A Blu-Ray Player
The Blu-Ray player is similar to streaming devices, except that Blu-Ray offers higher-quality pictures and audio.
This player was invented as a descendant of the DVD player and used as a data-storing device. It allows streaming from the internet and accessing several applications and social networks.
You will need an HDMI cable again, although the process is different from connecting your laptop or PC.
1. Connect both the television and the Blu-Ray using the HDMI cable.
2. After establishing the connection, use the remote control to find the "Menu" on your TV.
3. With the TV remote control, you must match the TV's input to the Blu-Ray input.
Note that older models might not be able to connect to your WiFi. You can download services such as Netflix and Hulu if you have a Blu-Ray player that can connect to the internet.
If you prefer access to many applications, you may need to opt for streaming devices instead of Blu-Ray players.
A Gaming Console
Almost all gaming consoles have access to the internet because they have built-in WiFi software.
Whether you use a PlayStation or an Xbox, you can access some common streaming applications, such as Netflix. Gaming consoles do not connect to all such apps. Thus you need to ensure that the one you are using can be transmitted via said devices.
You will need an HDMI cable to connect the gaming console to your non-smart TV.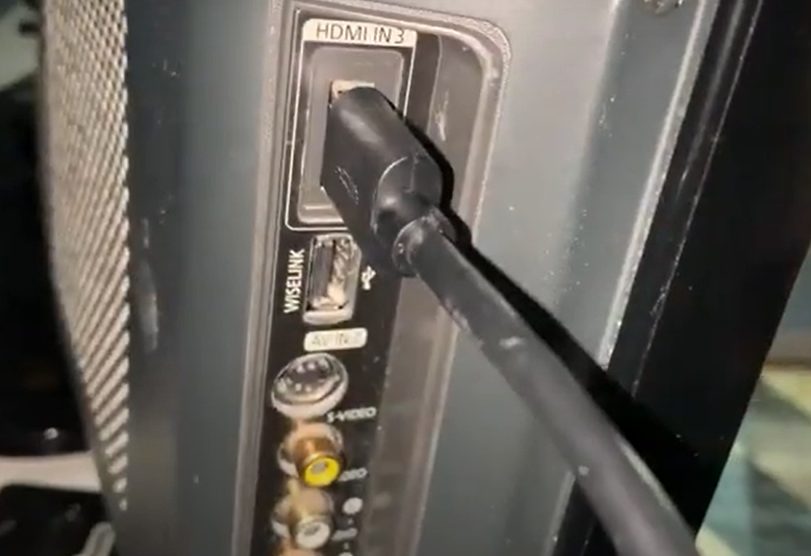 Similar to the above methods, you first need to connect the TV to the console with the HDMI cable.
Afterward, you will set the TV's input identical to the gaming console's, using the TV remote control.
Screen Mirroring and Screencasting
Wireless display technology like Miracast directly connects the sending device and the receiving device. Therefore, you don't need any Wi-Fi or internet connection to mirror your phone screen onto your smart TV!
This allows you to display your phone's (Android or IOS) or PC's (Windows, Mac, or Linux) screen on your TV.
Screen mirroring and screen casting are similar features with a few differences. In general terms, screencasting has fewer attributes than the mirroring process. Note that for the procedure to work, you must ensure that your non-smart TV and phone have the "Screen Mirroring" option.
Most iPhones, iPads, and Mac computers have a screen mirroring feature built into their system. If your phone doesn't have the screen mirroring or casting option, you can download a mirroring app from Google Play Store. Generally, you can connect your phone to a streaming device via a screen mirroring app to display it on your TV.
Two of the most popular applications for screen mirroring are ApowerMirror and LetsView.
How to Amplify Your Internet Connection for Your TV
An Ethernet cable is a common and simple way to better your WiFi connection.
Wired connections are far more reliable than wireless ones. Even though the router needs to be near the TV, an Ethernet cord can help you easily and quickly to magnify your WiFi access.
Note that:
Apple TV incorporates an Ethernet port.
Amazon Fire TV Sticks need an adapter to connect to the Ethernet.
Google Chromecasts also require an adapter.
Roku includes an Ethernet port on its expensive models.
Take a look at some of our related articles below.
---


Video References
Digital Trends
Spencertified
Greg's Game Room
Were Sorry This Was Not Helpful!
Let us improve this post!
Tell us how we can improve this post?