NewPhone Wireless offers free 4G/5G smartphones, certified pre-owned devices from iconic brands, and top-tier quality. Experience high-speed internet with 5G coverage, budget-friendly calling plans with unlimited local & long-distance calls and exceptional customer service.
I will go into depth on everything I know about new phone wireless, including a review of them, how I feel about them as a company, and their offers below.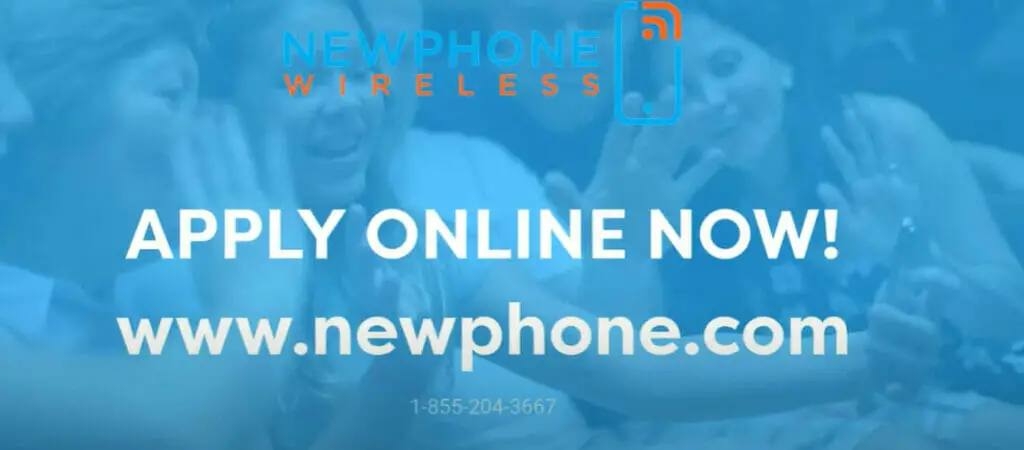 Overview: NewPhone Wireless
NewPhone Wireless is a cutting-edge telecom brand making waves with its innovative approach to mobile communication. They're not just another company selling phones and packages; they're reshaping how we stay connected in our day-to-day lives.
Free 4G/5G Smartphone Offer: What if I told you that the future of communication could be in your hands without emptying your wallet? That's right; they allow you to own a state-of-the-art 4G/5G smartphone without the hefty price tag.
Certified Pre-Owned Devices: Trust is a big deal. So, when I say these are from iconic brands you've known and loved for years, you can be sure you're getting the best.
Big Screens & Dual Operating Systems: Who doesn't like a little more screen? Dive into the world of large screens that are perfect for everything you love doing. Whether you're Team iOS or Team Android, they've covered you.
Top Tier Quality: They've set the bar high. Each device is given a thorough once-over to ensure it's up to par.
HTH Communications at the Helm: It's not just about the device. It's about the experience. And with HTH Communications leading, you're in for a treat.
NewPhone Wireless Reviews
Navigating customer feedback can sometimes feel overwhelming, demanding attention to the big picture and the finer details.
Here, we've streamlined and organized the reviews for NewPhone Wireless, differentiating between feedback gathered from the Better Business Bureau and benefitprograminfo.com.
Dive into the table below to better understand the experiences and perspectives of NewPhone Wireless customers.
Category
Better Business Bureau (BBB)
BenefitProgramInfo.com
Positive Feedback
Quality of Provided Phones
–
– Free phones without hidden fees.
– Phones are of excellent quality.
Responsive Customer Care
–
– Quick response to customer problems.
Negative Feedback
Communication Issues with Customer Service
– Difficulty in reaching customer service via phone or chat.
– Being disconnected during chat or call.
– Inability to speak to a live representative.
– Delays or lack of response to emails.
–
Delivery and Shipping Issues
– Delays in phone shipments.
– Not receiving the ordered phone.
– Not receiving a tracking number.
– Overload resulting in delayed orders (though assurance is given for eventual delivery).
Service Coverage and Network Issues
– Inconsistencies between ZIP code and actual service availability.
– Network switching leading to device incompatibility.
–
Billing and Payment Issues
– Charges for services not rendered.
– Payment made, but service or product not delivered.
– Unmet promises after payment (e.g., free upgraded phone not received).
–
Technical and Service Usage Issues
– Disconnection without apparent reason.
– Issues related to the quality of cell service.
– Threats of disconnection despite usage.
– Automated system errors interrupting user registration.
Website and System Discrepancies
– Mismatch between displayed coverage areas on the website.
– Application inconsistencies (e.g., shown as "pending" despite payment).
–
NewPhone Wireless Services
Let me tell you, the world of wireless mobile services is changing faster than ever before, and NewPhone is leading this revolution. They've developed some impressive offerings that are turning heads in the industry.
NewPhone's high-speed internet service. With their 5G coverage spanning major cities, it's like they've put rocket boosters on their data speeds. And no, I'm not kidding! Actual tests show data transfer rates reaching up to 1 Gbps. That's as fast as your home fiber connection!
NewPhone's calling plans. They offer unlimited local & long-distance calls within the US for a flat monthly fee – we're talking budget-friendly prices here! Plus, they've thrown in free-roaming – so whether you're a frequent traveler or love to chat from coast to coast, these guys have got you covered.
NewPhone's customer service. Trust me when I say this – they're quick to respond and eager to solve any issues you might have. The company emphasizes transparency and simplicity, reflected in its easy-to-understand billing system.
NewPhone Wireless Plans

Ready to level up your communication game? Dive into these unbeatable plans tailored for the modern talker, texter, and data enthusiast! Whichever path you choose, enjoy caller essentials like ID, waiting, 3-way chats, voicemail, and – drum roll – free shipping! Now, that's a deal you don't want to miss!
Lifeline Plan – $0 a month

Bring your device, and they will give you a free SIM.
Dive into 4.5GB of data, chat away with 1000 talk minutes, and shoot as many texts as you'd like.
ACP Plan – Still $0 monthly

Kick things off with a complimentary basic smartphone.
Tap into a solid 8GB data pool and have all the talk and text time needed.
Lifeline & ACP Combo – $0 every month

A new smartphone in the house!
Jump in with 15GB of lightning-fast 4G LTE/5G data, endless conversation, and unlimited texting – images too.
Getting Started with NewPhone Wireless
Step 1: Visit the Website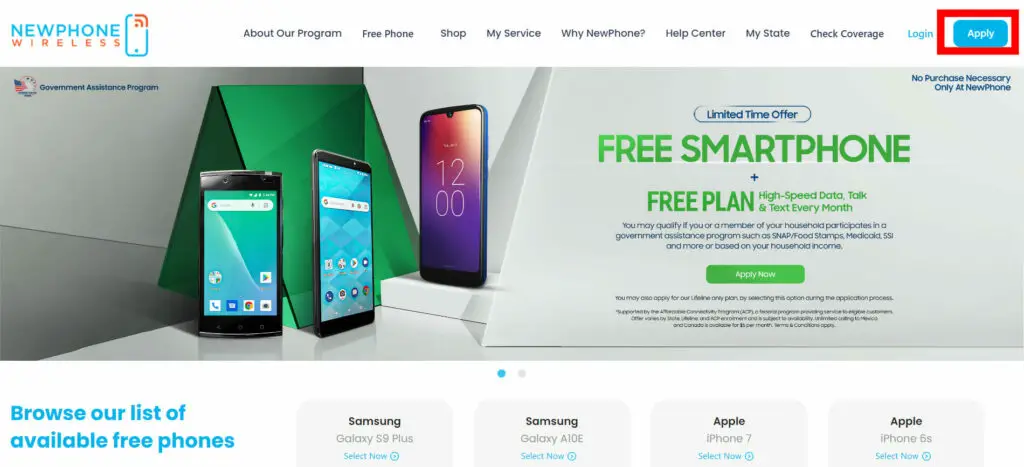 Head over to the NewPhone Wireless website on your computer or smartphone. Then click on "Apply."
Step 2: Input your ZIP Code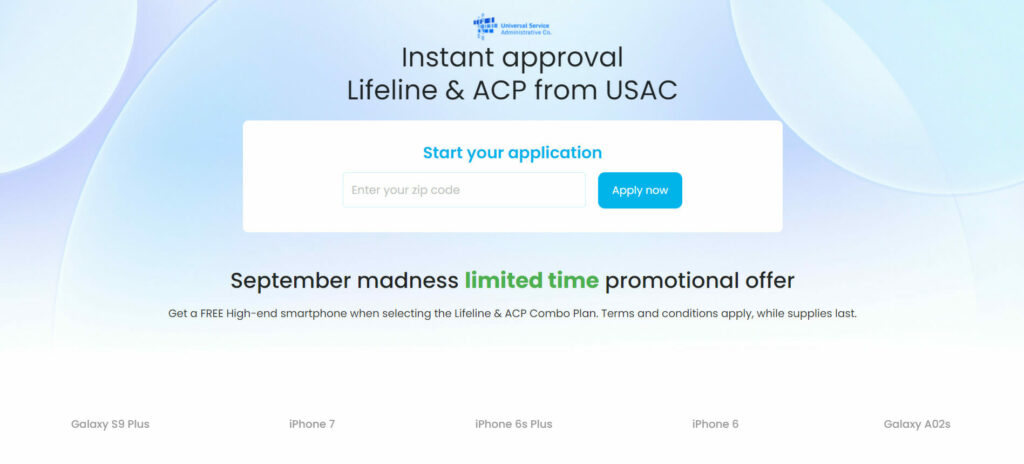 This is to assess whether your location is eligible.
Step 3: Choose Device & Plan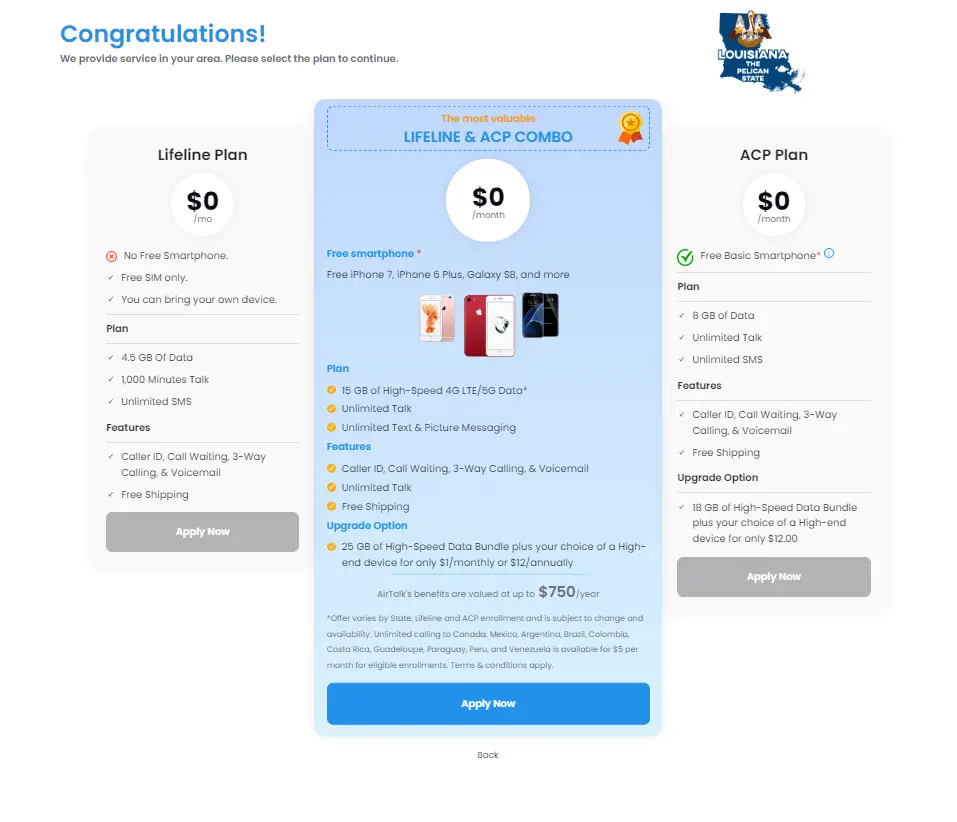 Pick the smartphone that suits you and select the best plan for your needs.
Step 4: Enter Your Info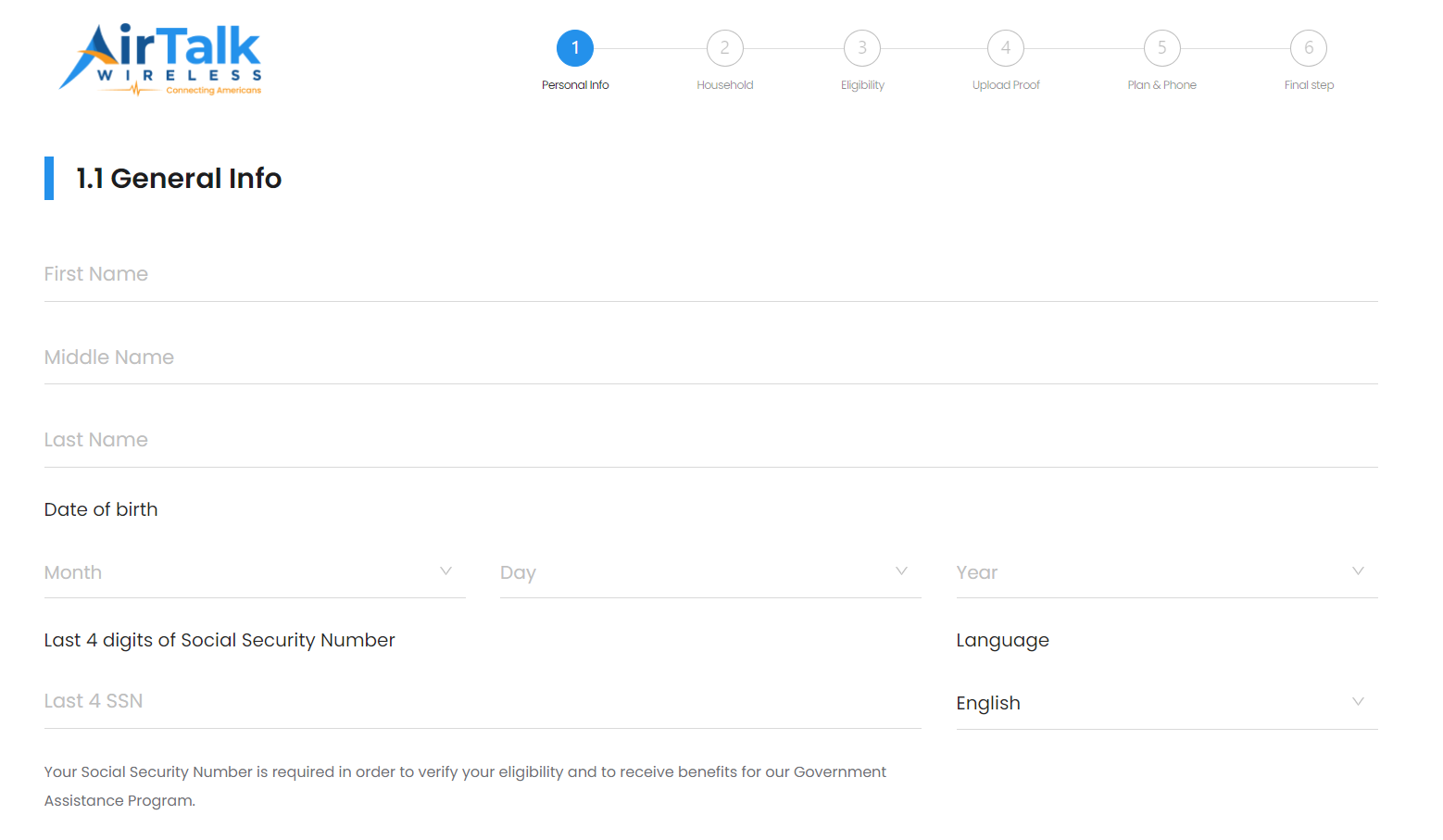 Fill in your name, contact info, and shipping address.
Step 5: Number Transfer
If you want to keep your current number, put it in the application form during sign-up.
Step 6: Review & Confirm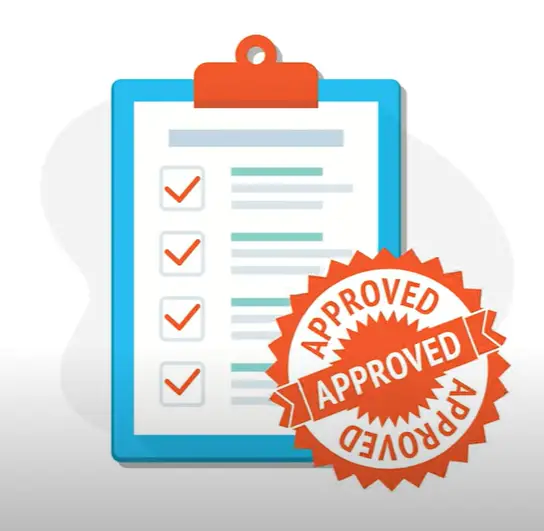 Double-check your order details and confirm your selection.
Step 7: Wait for Approval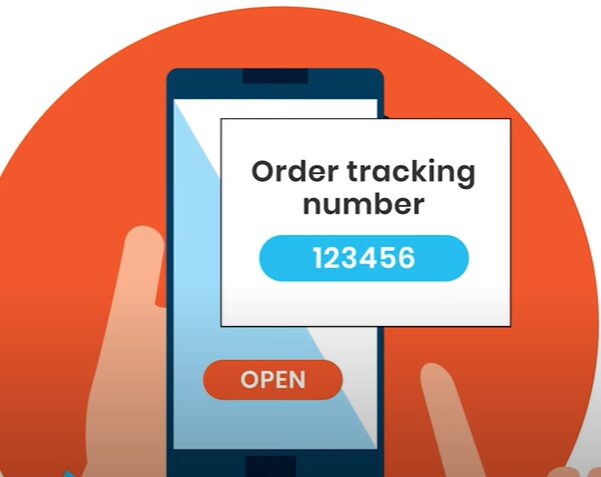 Their customer team will review your application within 20-30 minutes. Once approved, they will ship your order and provide the tracking number. Your device will be delivered within 7-10 business days.
NewPhone Wireless Devices
Let's dive into the exciting world of NewPhone Wireless Devices. I've got to tell you, these gadgets are nothing short of mind-blowing!
Here's a breakdown of the smartphones available from New Phone Wireless. Please note that prices may vary by region, but no matter where you are, New Phone Wireless has a smartphone to suit your preferences and needs.
iOS Devices:
Experience the elegance and performance of iOS with New Phone Wireless' selection of iPhones, including the iPhone 7 and Apple iPhone 7 Plus, delivering a seamless mobile experience.
Android Selection:
Discover the world of Android smartphones with New Phone Wireless, featuring powerful devices like the Samsung Galaxy S6, S7, A50, and the Google Pixel 3.
Basic Smartphones:
Simplicity meets functionality with New Phone Wireless' basic smartphones, including the Schok Volt and Unimax U696CL, perfect for staying connected without the frills.
Review on NewPhone Wireless
Diving into the world of wireless providers, I decided to give NewPhone Wireless a go. Here's the lowdown on what I found, from the quality of their gadgets to the reliability of their services. Buckle up, folks—it's time for an honest, no-frills assessment!
On the Upside
I've had my fair share of experiences with wireless providers, and I must say, NewPhone Wireless genuinely stands out. When they say phones come without hidden charges, they mean it. The quality? Top-notch. And I've got to tip my hat to their customer service. If you hit a bump, they're swift to sort things out.
A Few Hiccups
Now, nothing's perfect. The automated system? It can give you a little hiccup during registration. But it's nothing a brief wait or reaching out to their team can't handle. As for delivery delays, it seems to be a victim of its own popularity. There might be a slight wait when things get busy, but the goods always arrive. Just a heads up for the eager beavers out there!
Coverage and Network
Let's delve into the realm of coverage and network. These two factors are paramount when choosing a new phone wireless service. After all, what good is that shiny new smartphone if you can't get reliable coverage?
| Aspect | Explanation |
| --- | --- |
| Coverage | This refers to where your phone can connect to the mobile network. It's like an invisible net stretching towns, cities, or countries. National carriers have wide-reaching coverage across the USA, while regional carriers focus on specific areas. |
| Network Quality | Network quality is crucial for a wireless carrier. A 4G LTE network offers faster data speeds than 3G, and 5G is the latest technology promising ultra-fast speeds with minimal latency. However, real-world performance can vary due to factors like location and usage. |
Frequently Asked Questions
Q1: How do I switch to NewPhone Wireless?
It's as easy as pie! Just bring your own compatible device or choose one of our fantastic free smartphones. Then, sign up for your preferred plan, and we'll handle the rest, including transferring your existing number if needed.
Q2: Can I keep my current phone number?
Of course! We know your number is your digital lifeline. When you switch to NewPhone Wireless, you can typically keep your current phone number. We'll guide you through the process to make it seamless.
Q3: Is my device compatible with NewPhone Wireless?
Most likely, yes! We support a wide range of devices, including iOS and Android smartphones. If you're unsure, give our friendly customer support team a shout, and they'll help you.
Q4: What's the deal with the free smartphones?
It's a sweet deal. You may be eligible for a free smartphone when you choose one of our plans. These aren't just phones; they're quality devices designed to keep you connected without breaking the bank.
Q5: How's the network coverage with NewPhone Wireless?
We've got you covered! We offer nationwide coverage, and we've teamed up with some of the best networks out there. So whether you're in the heart of the city or exploring the great outdoors, you can expect reliable service.
Q6: What if I need help or have issues with my service?
Don't worry; we've got your back! Our customer support team can assist you with any questions or concerns. Plus, our billing is straightforward and easy to understand, so no surprises there!
Q7: Can I switch my plan if my needs change?
Absolutely! Life happens, and we're flexible. You can switch plans to accommodate your changing needs. We're all about making your mobile experience as convenient as possible.
Q8: What's the process for ordering a NewPhone Wireless device?
It's a breeze! Just visit our website, choose your preferred device and plan, and follow the simple steps to place your order. Your new device will be on its way to you in no time!
Q9: Do I need to sign a contract with NewPhone Wireless?
Nope, we don't believe in locking you into long-term contracts. Our plans are typically month-to-month, allowing you to stay or switch as you please.
Q10: How quick is the green light on my application?
We aim to be speedy! In most cases, you can expect approval within 20-30 minutes. However, if we need more time to double-check the details, it might take 3-4 days. We promise it's worth the wait!


References
Website Resources:
Video References:
NewPhone Wireless
Were Sorry This Was Not Helpful!
Let us improve this post!
Tell us how we can improve this post?